Thank you letter form Mr Wen
Thank you letter form Mr Wen
2 October 2022 (by rcleave)
We were privileged to welcome Mr Wen from the Shenzhen Dongsheng Education Group in China visit the school. The school received the following letter of thanks.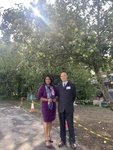 Thank You Letter to Long Ridings Primary
-- From Mr Zhiguo Wen (Executive Director and Chief Principal of Shenzhen Dongsheng Education Group in China) 18/09/2022
Dear Mrs Murthen, Mr Tullett and friends at Long Ridings Primary School,
I have thoroughly enjoyed and gained a lot from my time at your school this past week. I would like to express my heartfelt thanks to everyone for your selfless help, care and guidance!
It has been almost five years since I last visited Long Ridings at the end of 2017. This time, I have seen great development in the school.
On Monday morning when I arrived at the school, I saw the headteacher Mrs Murthen welcoming the children to school at the school gate, and I felt the dedication, enthusiasm and friendliness of Mrs Murthen. After a week's visit, I felt that Mrs Murthen is a good headteacher with educational aspirations, very energetic, exceptionally capable, and expecting high work standards. We often say that a good headteacher represents a good school.
On Wednesday morning, I had a good exchange with the Chair of Governors on the educational philosophy, vision and challenges faced by schools in both countries. I felt that the Chair of Governors is highly qualified and experienced, who has a vision for education and is willing to contribute, fully supportive of the development of the school.
At Long Ridings, I met students who are lively, well-mannered, well-organised, conscientious in their studies and active in class. Year 1 students who have only been in school for a week are already following good order in their morning assembly. During break times, I saw lots of students running around and being friendly to each other. The campus was full of laughter. Many students greeted me when they saw me. When the whistle blew at the end of break time, all students quickly stopped and lined up to go back to their classrooms. None of them broke the rules and some of them even said thank you to the teachers on the way back to their classrooms. This is a lovely and wonderful group of students that delight me!
During the week, I interacted with many teachers and observed many excellent lessons. This is a team of experienced teachers with a passion for their work, love and patience for their students. I saw the teachers in maths classes catered to students of different abilities and provided four different levels of work for students to practise, so that every student had something to gain and a challenge to achieve. The teachers in English class are of high professional level, and have excellent class and work design, making learning fun and engaging for students. The teachers have a very heavy workload and work very hard throughout the day, but they are always enthusiastic about their work and smiling. They are attentive to the emotions of every student in the classroom. I didn't see any of the staff behaving in a loud manner towards the students who were misbehaving. They were able to squat down to the student level, listen to the students' thoughts, guide and encourage them patiently, and even give hugs. These teachers and teaching philosophies are examples for me to learn from and will all have a profound positive impact on my future work in education.
One week was very short, but I met many outstanding people, had a very enjoyable experience and gained a lot. I would like to invite Mrs Murthen and Mr Tullett to lead some teachers and students to visit our school to experience China's development, culture and differences. Differences are also resources for education. I hope that our schools will forge a fruitful friendship and cultivate more outstanding students in their respective communities. I wish Mrs Murthen, Mr Tullett and all teachers and students of Long Ridings Primary School all the happiness and fulfilment!